Skip to product information
Chookie Chewy Healthy Cookie Bars
You never have to wonder what's up in each cookie bar. Made with plant based, non-GMO ingredients you don't have to sound out, and a whole lotta love, we have an oatmeal raisin flavor that will scratch any cookie bar itch.
Welcome to Planet Chookie
We may not be 4.5 billion years old, but we've got a pretty cool story.
We started out with a simple recipe: Fresh air + things that taste good. So get out there. Indulge. And pack a Chookie!
Taste Like There Is A Tomorrow

Everything can still have chocolate, we promise. The summer… Oh no. You forgot it is right around the corner. But fear not. Saving the day is a click away on Chookie non-GMO, gluten free, and plant based cookie bars. Cookie bars are made in a total of three flavors (Orange Pecan, Almond & Coconut, Banana Nut.)

Shape Matters

Our shape is the first obvious sign that we're different. Weighing in at 30-grams, our single-serve cookie bars allow for controlled indulgence. Unlike single serve products where a fraction of the package is a serving size (but the entire thing is always eaten), we invite you to savor the whole thing without guilt.

Enjoy What You Eat

From very small batch baking to finding ways to celebrate the idea that good taste and eating healthy can go hand in hand without any sacrifice, we're constantly trying new stuff, and why we're always looking forward to snack time. (We won't remind you that it's good for you.)
Why should I subscribe to Chookie Plus?

Subscribing is a convenient way to receive regular deliveries of your favorite Chookie products at 15% off Chookie.com retail pricing! You can start a subscription by selecting the subscribe option on our product page and checking out.
Are Chookie products Kosher?

Chookie chewy healthy cookies are certified Kosher by the Orthodox Union. All Chookie varieties are Kosher and do not contain dairy. They are all marked with an OU symbol.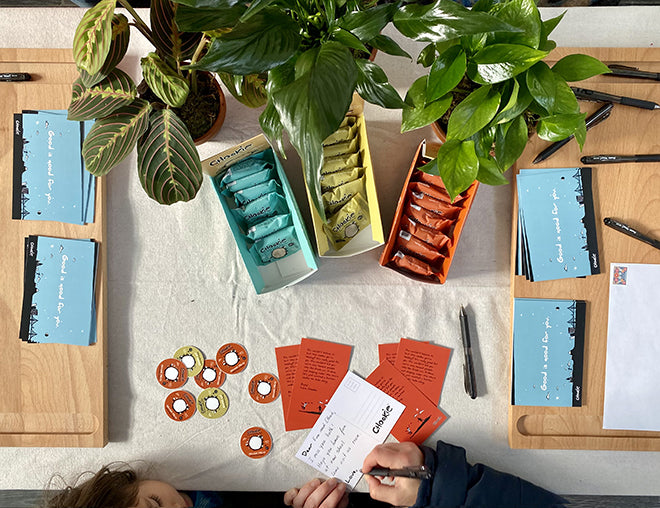 Good is where the heart is
At the downtown market in historic Jersey City, New Jersey we invited people to share gratitude —but the old fashioned way. Next to our sampling area, writing stations offered the opportunity to pen a random "thank you" message and pop it in the mail. The stamp was on us.
Of course, there were a few skeptics at first but with little to lose, most people were pleasantly surprised by the power of pausing from their day to jot down kind words. The results: 200 handwritten notes of thanks transported by post. This is big.